About Our Osteopaths
Based in Rainham since the year 2000, we endeavour to provide the highest standards of Osteopathic healthcare to the public across the North Kent region and beyond. The Osteopathic approach sees, diagnoses and treats each patient as a unique individual with their own unique requirements for health. You will find our clinic has a friendly, family atmosphere from the reception desk through to the treatment rooms. Most of our new patients are referred from previous patients recommending us. We often find ourselves treating multiple generations of the same family. We have a stable, experienced and highly skilled team who have helped thousands of people with all kinds of mechanical and muscular pain. Our team have a wide base of expertise and interests in the application of osteopathy.
Chris Payne BSc (Hons) Ost. Med. DO ND MRN PGC ACE
Graduated with a First Class honours degree in Osteopathic Medicine and a diploma in Osteopathy and naturopathy in 1998 from the British College of Naturopathy and Osteopathy (now the British College of Osteopathic Medicine). He gained a distinction in his final clinical competency examination and was awarded the fourth year clinical prize. Setting up the Rainham Osteopathic clinic in 2000, Chris continues to expand his knowledge with particular interest in the links between dentistry, orthodontistry and Osteopathy, applying the diagnostic tools of acupuncture concerning visceral Osteopathic approaches, the importance of the pelvis in pregnancy and obstetrics , treating babies post delivery, treating children and how emotional factors can present in musculo-skeletal pain. Chris uses various treatment methods that Osteopathy has at its disposal, ranging from massage and manipulation to cranio-sacral osteopathy, sacral or cranial Osteopathy. Chris also teaches at the European School of Osteopathy as a clinic tutor and examiner. He undertook a post graduate Certificate in Clinical and Academic Eductation. Chris is part of the International department of the European School of Osteopathy and has lectured in Russia and Denmark. Chris is passionate about his family and has two children, plays golf (allegedly!), loves long walks (he completed 100km in 30 hours on the trail walker a few years ago) and enjoys painting when he gets the chance.
Stephen Hipkiss BSc (Hons) DO
Stephen Hipkiss graduated from the European School of Osteopathy in 2002 with a BSc Honours Degree in Osteopathy and a Diploma in Osteopathy. Stephen uses a broad range of osteopathic techniques, tailoring each treatment to your individual needs. These include muscle stretching and massage, joint mobilisation and manipulation, as well as gentle cranial and functional techniques (often referred to as cranial osteopathy). Having benefitted from cranial osteopathy in his youth and received basic cranial training at undergraduate level, Stephen has gone on to complete several post graduate courses to develop his skills in this area. With these skills at his disposal, Stephen will be able to discuss the best treatment approach for you, utilising either traditional or cranial techniques independently, or integrating the two approaches according to your needs.
Rachael Price BSc (Hons) DO
Graduated from the European School of Osteopathy in 2003 with a diploma and BSc. in Osteopathy and has worked with us at the clinic since that time. Her areas of interest are the treatment of children and babies, shoulder injuries and the treatment of animals. She hopes to complete a post-graduate course in the near future.
Gabriele Di Giuseppe Taormina
Gabriele graduated from the European School of osteopathy with a master's degree.
For further details concerning Osteopathy click onto the Osteopathy and Health Zone pages of this website. Our patients come from across North Kent including Rainham, Sittingbourne, Medway, Chatham, Gillingham, Rochester, Strood, Sheerness, Maidstone and Faversham. Of course we also welcome enquiries at any time, experienced members of the team are always on hand to answer questions. Contact us at The Rainham Osteopathic Clinic today.
You can find full details regarding Osteopathy on the Osteopathy and our patient information pages of this website. There is also the health zone page which has lots of information that supports and supplements the treatment you may receive at the clinic.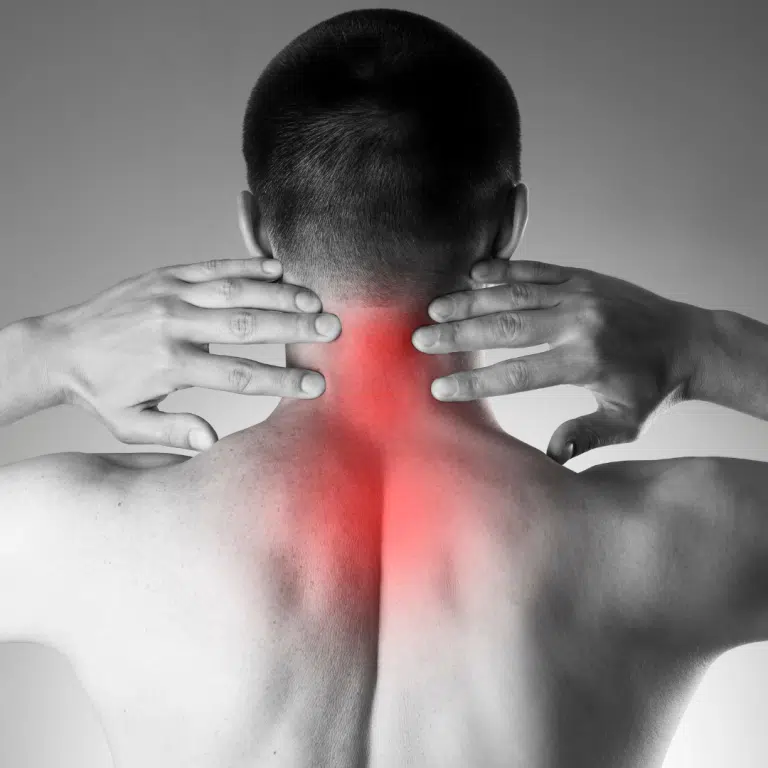 Neck pain is a common occurrence and many of the main neck muscles have their point of attachment at the base of the skull. There are also nerves that supply the head that originate in the upper neck. As a result head pain and headaches are often associated with neck pain. The function of upper back and ribs and even the way we breath can affect the neck. Posture and exercise are considered and used when considering the treatment of neck pain.
Sports injuries can be either due to direct trauma or strain over time. Our Osteopaths wil typically examine the whole body as the body is a unit and linked though the connective tissue. At Rainham Osteopathic Clinic we focus on prevention rather than cure and give sports people advice on warm ups and warm downs, stretching and/or strengthening specifically to their individual requirements.
60 to 70% of us may suffer with an episode of low back pain at least once in our lives in industrialised countries (WHO). The World Health Organisation describes low back pain in this context "…the causes of the onset of low back pain remain obscure and diagnosis difficult to make. " At the Rainham Osteopathic Clinic through examination we endevour to understand your back pain and work together for the best outcome possible for your diagnosis.
The human body is designed to move, it is key to our health. The modern lifestyle unfortunately forces us to sit for prolonged periods of time at desks, in cars, even on the sofa at home. This can cause stiffness and other problems in the musculo-skeletal system such as muscle and tendon injuries, slipped discs etc. Our Osteopaths can assist in improving the range of motion of joints and reducing stiffness.
The process of aging means that our body is constantly changing and that aging results in degeneration of the joints. Symptoms can range from stiffness, mild aching or severe pain. Our Osteopaths identify areas of poor movement within the tissues of the body and improve function to reduce mechanic load on worn or arthirtic joints. Exercises and a management plan can be tailored to the individual.
We provide Osteopathic healthcare to all patients from across North Kent including Rainham, Sittingbourne, Medway, Chatham, Gillingham, Rochester, Strood, Sheerness, Maidstone and Faversham.
Adults
Osteopathy considers mind, matter and motion or in modern terms Body, Mind and Spirit. Problems with the body arise due to mechanical strain, biochemical strain and emotional strains. At the Rainham Osteopathic Clinic we endeavour to understand what is most important for you. A thorough case history begins the investigation of understanding. An examination primarily using the use of touch to ascertain tension in the body in relation to anatomy and fluid mechanics then gives further information. We then discuss our findings and if appropriate treatment with massage, specific joint and ligamentous adjustment, muscle work and fluid mechanic work through gentle cranial techniques and breathing and visualization exercises may be given. Exercise therapy can also be given to help improve or maintain the motion in the body. Ergonomic assessment and exercise assessment as with some patients the problem may be not enough exercise and others may be too much of the wrong type of exercise.
Children
It is one of the most common misconceptions that because children are so flexible, mechanical strain does not affect them as it would adults. However they experience mechanical strain, chemical strain and emotional strain just as the rest of humanity does and currently our children move less than at any time in human history. The too little or too much is just as important for them as adults. Growing bodies adapt around strain however they can struggle. "Growing pains" are a misconception, any pain felt means something and at the Rainham Osteopathic Clinic we endeavour to understand what is causing this pain. Falls, accidents, diet and stress all contribute to that child's function and often at the clinic there is no known onset to the young persons pain until when our osteopaths feel the function and describe then tension in the body the parent often remembers the fall off the scooter, a poor football challenge or fall down the stairs a few months before.
Babies
The body is designed to cope with the strain of birth however very quick births, Cesarian sections, emergency delivery (when babies get struck in the birth canal), the use of Ventouse or forceps can put significant strain in a babies body. When we have strain and pain we often feel sorry for ourselves and rather grumpy. This presents as an unsettled uncomfortable child. This is often termed colic and colic and can be very distressing for both parents and the childen. Biochemically formula milk that is based on cows milk can also upset some babies and this results in significant tension in the babies stomach and can present with green coloured nappies (after the initial first week of birth). The baby can struggle to cope and therefore be unsettled. Our osteopaths at the Rainham Osteopathic Clinic will assess the baby and if they have any concerns may recommend a referral to someone more appropriate if needed, however if unsure always consult your midwife, doctor or hospital. Quite often patients bring in their children for a check up post delivery.
Mums To Be
The body undergoes significant changes in the process of pregnancy. The anatomical function of the pelvis is important in the delivery of the baby during delivery. At the Rainham Osteopathic Clinic an assessment of the mechanical function of the pelvis is made to maximize function both regarding symptoms and also in relation to the function of the anatomy required to change during the birth process. The function of the thoraco-lumbar fascia, the sacro-iliac joints and the pubis cartilage joint is all key to enable the passage of the baby from the mothers womb into the world at delivery. If the pelvis function is not ideal due to mechanical strain the lower back can often be affected and pain ensues. It is also possible to have other problems and strains during pregnancy and normally these are often treated with medications. Osteopathy therefore provides a natural way to help when the use of medications is less appropriate.
Ageing
Just because we are aging it does not mean we cannot help the body to function as well as possible. Maintaining mobility is key to health and at the Rainham Osteopathic Clinic we strongly believe in helping the aging population encouraging mobility and exercise. As we age it is fundamental for good health to encourage social interaction and learning. Therefore the Osteopathic treatment approach is to understand our patients both physically and emotionally. This is more important in our aging population as social isolation and loneliness are unfortunately a part of modern society. Losing confidence physically therefore can further impact health. Helping our elderly patients to remain active and flexible is therefore a key factor in health.
Everyone
We all pick up mechanical strain in our day to day, a slip up the stairs, hitting your head on the kitchen cupboard, a fall over the dog, the list is endless of how our day to day physical life can impact our mechanical function. Weeks later we can wake with some neck pain or back pain that does not seem to have any real reason to its onset. As Osteopaths we use the sense of touch to understand when the tissues of the body are not moving in their normal range of motion which can then result in pain being perceived in our brains. This is why sometimes Osteopaths can work in areas not seemingly connected to our pain. Our Osteopaths will explain the possible connections and why this may contribute to your pain. Sports injuries can also be involved in this way as any repetitive action on our bodies can give issues from time to time.
How much does Osteopathic treatment cost?
Initial consultation
(1 hour)
Subsequent treatment sessions (30 minutes)
Consultation for
over 75's
Homes visits - disabled & non-disabled
Initial consultation
(1 hour)
Subsequent treatment sessions (30 minutes)
Consultation for
over 75's
Homes visits - disabled & non-disabled
Many private health insurance schemes give benefits for Osteopathic treatment. Some will reimburse the total fee that you have paid, some only a percentage. All insurance companies have help lines to explain your benefits and methods of claiming.